When you become a parent, your kid(s) is/are the most important part of your life. You want to give them everything you didn't have. You want them to grow happy and calm.
The environment they live in is very important –  friends in kindergarten, home… kids room. It should be sunny and cosy, coloured in bright colours. When you had chosen the furniture and the curtains it's time for the carpet.
Your kids will play on it most of the time they're at home. That's why the carpet in the kids' room must be carefully chosen.
The color and style
the material
the size
 … everything's important.
If it's your first time choosing a carpet for the kids' room, here are some ideas:
Colour and style
As long as your kids are too little to decide, you as a parent must choose the colour and style of the carpet.
Girl or boy's room – it makes a difference.
If you have a girl, you can make the typical Barbie room – all in pink, including the carpet. If your little daughter likes fairy tales, you can find a rug, painted with her favourite tale, so she can feel like a mermaid, sleeping beauty and so on.
If you're searching for a boys room carpet, a nice idea is a "sports field" carpet. It can be football, basketball, baseball – everything your little sport fan likes.
Nature colours are great for both girls and boys. The earth tone colours are a great compliment to natural wood and create a relaxing environment.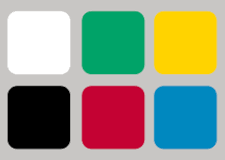 Nowadays, you can even design your own personalized rug. It could be with the name or the photo of your kid, put on it. These designer rugs are a little more expensive, but they are hand made and unique so they are worth it.
Material
As I already mentioned, your kids will spend most of the time on the floor, which means on the carpet. So it should be soft. On the other side, it's good when the carpet is from material which is easy to be cleaned.
There are a few materials which are great for a kids room rug:
wool
cotton
viscose
nylon
or a mixture between them.
Size
When it comes to the size of the carpet, it's up to you. You can choose a wall to wall carpet or a smaller one. The first one is kids friendly – your boys and girls can play on the whole floor, without getting cold.
The second one is parents friendly. You can clean it easier and faster.
For every parent, it's not a secret that the carpet in the kids' room will become dirty very quickly. The kids will spill drinks, food, paints etc. on it.
When you have chosen the right carpet, it's good to take care of it. But we both know that sometimes there will be spot your kids' carpet won't resist.
If you can't handle the spots, you can always hire a professional carpet cleaning company, like ourselves, because the experts can remove most stains you can't. Moreover, they'll clean it at least twice as fast as you because this is their job and they use specialized tools and detergents.
I hope you'll find the perfect carpet for the room your kids live in.